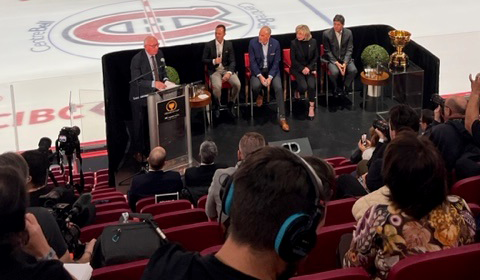 Weir was introduced Wednesday under those banners as captain of the Internationals at the Cup, which will be held for the second time down the road at the Royal Montreal Golf Club. He's had his share of individual success. His 2003 Masters victory is the greatest moment in Canadian golf and one of the biggest in Canadian sports history. HIs singles victory over TigersWoods at the 2007 Presidents Cup at Royal Montreal was another gem.
But, for the most part, golf is a singular pursuit.
Weir, who grew up playing hockey and loved the shared satisfaction of winning with teammates, got a taste of what it feels like to be part of a team in golf in his first Presidents Cup in 2000 (he was the first Canadian to play in the event). Since then, he's been a player five times and a vice-captain three times. The International Team has won but once in 14 tries against the USA and that was in 1998 before Weir was on the scene. The Americans are on a nine-event winning streak, including the last in September, 17.5-12.5 in Charlotte.
Being part of a team win at the Presidents Cup might surpass his Masters victory, Weir said.
"At this stage in my life, and my career, that would be a real feather in a career that's gone above and beyond what I've ever dreamed," he said. "To bring that trophy, not only to the fans in Canada, but to those 12 players in the room, the caddies, the wives. Being part of five and not winning one is tough. Growing up playing team sports, when you win something together, it's a lot funner than winning by yourself, honestly. It's great winning a tournament by yourself and you celebrate with your family and your caddie, but to win something big with a team, there's nothing like it," he said.
"There's been 24 of them here in this city. That's what we want. That's what we hope happens. I'm going to be pushing for that, and it would be a great thrill, probably the biggest thrill of my life golf-wise."
Those 24 banners were hoisted on the strength of team play. Weir said the International Team has taken big strides in the past two events bringing players from different countries (seven were represented at Quail Hollow) together. A big step was taken under captain Ernie Els, who introduced a logo for the team in 2020 — "the shield," as they call it — and gave the players more of a sense of belonging to something.
It used to be the International players got together for a week and introduced themselves to each other every two years. Weir said players will now seek each other out for practice rounds on the weekly grind of the PGA Tour. There's more of a connection there now.
"Ernie started something pretty significant with our team logo and really brought some unity to our team, and Trevor (Immelman) continued that momentum in Charlotte.
"As the great Scotty Bowman said, one of your famous coaches, "You're always trying to adapt to win in this league," that's what he said, and I think we have to learn to adapt and adjust as we move forward, and I think we've done that. Ernie started that, Trevor continued that, and I'm going to try to continue that, as well, and try to get this thing on the winning track for our team."
I asked Weir if he plans on reaching out to coaches, specifically in hockey, to pick their brains about some team-building principles that could be portable.
"I think you're exactly right. I've got a few guys in mind. I haven't reached out to anybody yet. I wanted to get through this announcement. Look, I've never been a captain before. I've been part of the teams, on the assistant side. I've watched, as I said, Pricey and Ernie and Trev do their thing.
"But we're golfers, and we try to learn from those that have done it before, and leaning on hockey coaches, in Utah where I live, maybe the basketball coach, picking the brains of some guys that have done it a long time,"
He's already dipped his toe in those waters. He attended the Montreal Canadiens morning skate on Tuesday as they prepared to face the San Jose Sharks and observed Habs coach Martin St-Louis at work.
"More about leadership, learning about that, watching Martin even just for the few minutes I was down in the team room yesterday, there's a lot to be learned there," he said.
"Just the extra time he spent with some of the other guys on the ice after practice was over, some guys that weren't even suiting up, those are things that I'm going to try to implement. I'm going to try to get out to a lot more events. Guys that are even maybe further down the list to boost their spirits and boost their confidence so they can maybe make a run. All those things I've been thinking about quite a bit here the last few weeks."
Weir will have the chance to return to Royal Montreal where he delivered another thrill for Canadian golf fans in 2007 when he defeated Woods in singles on Sunday (Weir said it would be great if perhaps Woods was the captain of the American team in 2024, setting up another rematch of sorts).
"Yeah, 2007, that match was very special, and the fans were incredible, and we're hoping that it's even better and bigger in 2024. We're off to a great start. I think it will be. Really looking forward to the challenge of being the captain and motivating those guys to be that underdog but overcome those odds."
Next spring will be the 30th anniversary of the Canadiens last Stanley Cup victory.
Weir would love to raise a Cup of a different kind in September 2024.