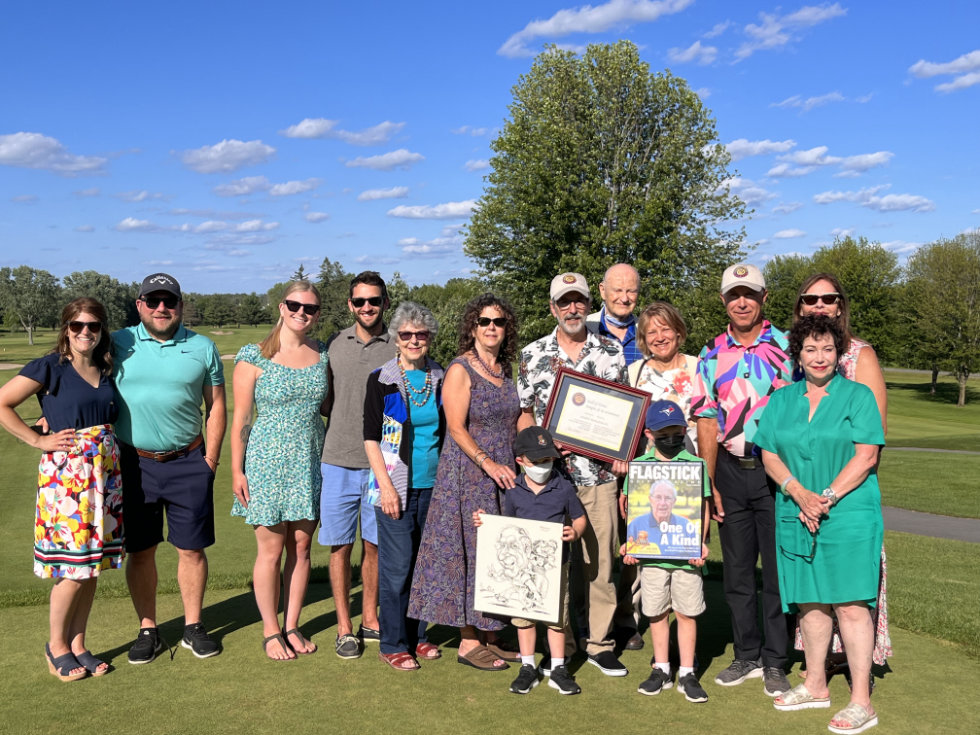 There could not have been a more fitting time or setting for John Holzman's induction into the Ottawa Valley Golf Association's Hall of Fame.
The late afternoon sun bathed the patio overlooking the 18th hole at Rideau View Golf Club in a warm glow as four generations of the Holzman family gathered with friends to honour their late patriarch's contributions to golf in the Ottawa Valley.
Nearby, the final moments of the prestigious Alexander of Tunis tournament, one of Golf Quebec's Big Three amateur events and an event that John Holzman helped organize and officiate in the 1970s and '80s, were concluding.
Patriarch is the perfect description for John Holzman because, in his role as a golf administrator, he was like a father to hundreds of young players who benefited from his advice and mentorship on and off the course and from the comfort of the Holzmans' living room floor.
HIs son Mark Holzman spoke on behalf of the family at the ceremony.
"When tournaments were held in Ottawa, especially junior tournaments, my sister Lisa remembers the living room floor filled with sleeping bags of players hosted by our parents to save on expenses," Mark remembered.
On an easel next to where Mark was speaking, a caricature created by Rusins Kaufmanis, the Ottawa Citizen's cartoonist from 1963-1986, captured perfectly Holzman's place in Ottawa Valley golf history.
It's fitting that the cartoon was crafted by Kaufmanis, whose son Eric benefited from John Holzman's influence to become one of the best junior golfers the area has produced (Eric Kaufmanis was part of the first class to be inducted into the OVGA's Hall of Fame last year).
"He depicted John hurrying along, a bag full of young golfers over his shoulder, wearing one of his trademark sweaters and sporting the biggest, proudest smile you can imagine," Mark said. "This embodies John's love and devotion to building the game by supporting junior golf. It certainly makes John Holzman a wonderful candidate for induction in the builder category and our family is thrilled to accept this honour on his behalf."
John Holzman was a single-digit player who played on Rideau View's early Intersectional teams. He said he was a single digit player, but better than scratch as an administrator which he discovered was his true calling in the game. He was honoured previously by having the OVGA's Senior Intersectional Trophy bear his name.
"From my youth I remember his fast, low swing like his idol Arnold Palmer and John's low, worm burner drives down the fairway. I can still hear is 'oh, no' when that swing resulted in an errant shot," Mark said, drawing knowing chuckles from the crowd. "And who can forget his assortment of sweaters, never coming off until the temperature hit the mid-90s or so.
"But John's biggest thrill and greatest contribution was not from playing competitive golf but from being involved in organising and supporting golf competitions here in the region, in the province and nationally.
"John had a gift for organization and for leading teams of volunteers to organise countless successful tournaments and other events."
He was a crack rules official whose path often crossed that of son Bill Holzman, a two-time Tunis winner and one of the best players Rideau View and the Ottawa Valley produced. Bill remembered his dad offering a word of encouragement from his golf cart during a time when Bill might have been running a little hot.
"No wonder that the most exciting day at our house was when the new version of the Rules of Golf arrived in the mail," said Mark.
John rose through the administrative ranks to the national and international level. Mark recalled one of the highlights of the golf season was John working the scoring table at the Canadian Open.
"Some of my fondest golf memories are being allowed to stand behind his chair in the tent and seeing him truly in his element," Mark said.
"This is emotional for us," Bill said looking out over the group which included his mother Jackie, the former mayor of Ottawa from 1991-97. "We gather support and encouragement from our parents and they make us very proud. We make them proud, but in this case, Dad and our mother Jackie have made all of us very proud with their accomplishments in their own way.
"Dad would be very humbled by this. This is not what he expects out of his volunteerism. Sometimes these awards are granted to you, but that's not why John does these things.
"John would be truly honoured by this recognition," Bill said, "and a bit embarrassed, too."
Induction into a Hall of Fame is an honour bestowed on few. Accomplishments are easily listed. Less evident is the positive impact on individuals, on lives. Those are much harder to ascertain and, ultimately, so much more important.
The final speaker during John Holzman's induction ceremony was Rideau View member Liam Maguire, the hockey trivia expert whose life has been connected to Rideau View for 43 years. A caddie, back shop worker (along with Bill Holzman) and a member. Maguire grew up at Rideau View.
Maguire caddied for John Holzman at Rideau View and, later, had him as a professor at Algonquin College when Maguire was going through a tough time as many in their late teens do.
"I was going off the rails. I was totally consumed with hockey and stats and trivia and facts and Molson Ex and other things. Things didn't end well for me at Algonquin and subsequently things weren't ending well for me on the home front," Maguire said.
"Mr. Holzman gave me a call at home after my tenure at Algonquin ended abruptly. We had a little conversation. He said, 'what are you doing? Put your dad on the phone.'
"He talked to my father and he gave me the phone back. He said, 'you are going to go see Morris Weltman on Monday. You're not going to sit home on your ass. You're going to work, you're going to figure things out. You intend to go back to Rideau View?'
"Yes, sir."
"Well, you are going to clean your act up and work for Morris and Harry Weltman."
"That straightened me out, that call. Imagine him phoning me at home. I'm 19 years old and then asking to talk to my father who's right off the boat from Dublin, Ireland. John Holzman talking my dad off the ledge, talking me into some common sense and I'd like to think I kind of straightened things out. Without that call at that time, I'm not quite sure how things would have worked out."
No matter how long the list of accomplishments, can there be anything more important than having that kind of impact on even one person's life?