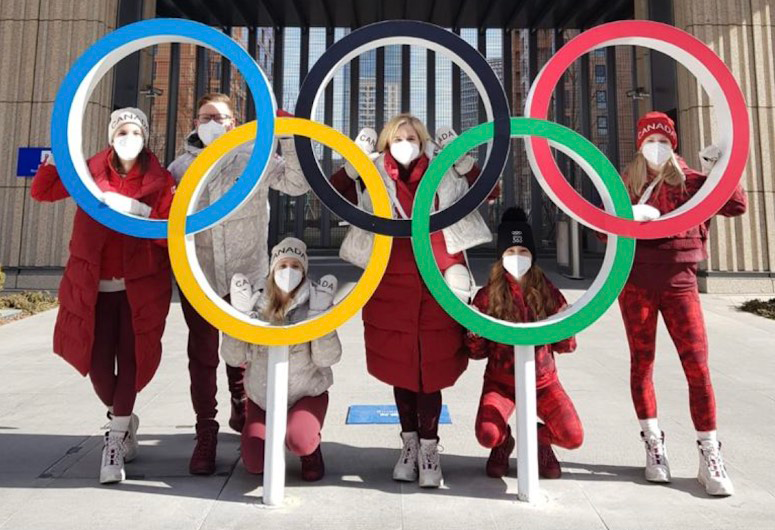 Lisa Weagle's second trip to the Winter Olympic Games has started out much differently than her first, four years ago to Pyeongchang.
Here's hoping it has a different ending, too, for the Ottawa curler and her fans at the Rideau View Golf Club, where she is a member.
Weagle is the alternate on Team Jennifer Jones and they will begin their quest for gold in Beijing Feb. 10 when they play South Korea.
"It's so exciting to go back to the Olympics. In women's curling you pretty much get the sense you are only ever going to go once so to be able to go back a second time is a dream come true for me," Weagle said.
She was the lead on Team Homan for the 2018 Games and they wound up finishing sixth. Weagle joined Team Jones two years ago.
"While (2018) was an Olympic experience, this one is completely different," she said. "We're heading into more of a bubble situation. I'm going with a different team in a different role. I tried to take as much as I could from that (2018) experience and bring it forward. I'm excited! Our team has been doing its preparation and really focusing on ourselves and what we can control and trying to be as prepared as possible to represent Canada."
Weagle spent the weeks leading up to the departure for Beijing training by herself in Ottawa with the overarching goal of preparing for the Games while avoiding COVID. The pandemic has presented challenges for people in every walk of life and has added another layer to preparing for a world-class competition.
"That almost seemed like job No. 1 right now, just to avoid COVID," Weagle said. "It's definitely a different preparation than I would have anticipated. Safety is No. 1 but I think everyone is also wanting to enjoy the experience and have some of those special moments that you would only get at an Olympic Games."
In addition to her solo training sessions, she spent time on Zoom with the other members of the team. They have been apart since winning the Olympic trials in November. The on-line connection has allowed her to continue to build on the relationships she has been growing with her new teammates.
"It's kind of crazy to think our last team game together was in November winning the Olympic trials. In a normal season, we would have played in a Grand Slam event by now, and we would have had some training camps. It is different and everyone practised individually," Weagle said.
As alternate, she said he is enjoying the responsibilities that come with a different contribution. It's more of a support role and she said she's embraced it. Most of her contribution to the team will be taking place behind the scenes this time around.
"I'm an alternate so part of my job is being prepared if I have to play but also being prepared for the night time practice and matching rocks for the team and gathering information. I'm really trying to prepare on the ice and off the ice for whatever role I'm called upon," she said. 
"I think that one of my most important roles is to make sure everyone is feeling good and in that optimal space where everyone is ready to perform. I've gotten to know the team really well over the last two years and have developed some great friendships and really understand what makes everyone tick. I actually really like that part of the job, the player/coach role and player management. I just want to make sure I am eliminating the distractions for them and setting up the conditions where they can go out on the ice and shine."
It is going to be a very different and quiet atmosphere in Beijing with no fans at the events. Athletes will typically draw energy from the emotion sparked by spectators. Weagle said Team Jones learned from the Olympic trials experience — which was also held in a bubble — and has a strategy to make up for the deficit in energy.
It's going to have to come from within.
"One of the things Team Jones is so good at is just rolling with the punches and making the best out of every situation," Weagle said. "We're going to make this special and we are going to create our own atmosphere and our own energy. We had to do that last year in Calgary when we were competing in the bubble with no fans. That was something new for us, competing in an empty arena. 
"You'll probably see some extra high fives and broom taps and smiles out on the ice just to try and create our own atmosphere and energy because we are really going to be missing our friends and family back home. Through all this, it is not lost on me that it is a privilege to be competing and travelling right now at this time in our lives when a lot of people just don't have that option right now."
She'll have her fellow members at Rideau View cheering her on, if from the other side of the world.
After her husband, Robin Guy, joined Rideau View in 2020, he — like much of the world, it seemed — found golf a great escape during the pandemic.
"He was playing three, four, five times a week. Seeing him do that, I thought, 'you know what, this is something I would like to do as well,'" Weagle said.
She played a few rounds with Robin and liked the reception at Rideau View, something as simple as people saying hello in the parking lot. She discovered she had friends from the curling world who were members at Rideau View and, putting it all together, she made the decision to join last year.
"I love the vibe at Rideau View. Rideau View was very welcoming. I just felt instantly welcomed from the moment I joined the club. Everyone has been very welcoming and it feels like a really great place to be, a great atmosphere," she said.
As a world class athlete, she has been able to draw on her experiences to build on some common skills between the two sports.
"I find that there are so many parallels. I think there is a reason why curlers are golfers as well, kind of how the game works and I love that part of it, too. Picking a target, reading greens, getting the speed right and those little elements that go into golf. The thing with curling is if you miss your shot, you don't have to go and get it. It's someone else's turn, but with golf you have to go find your ball and keep hitting it. There's nobody to pick up the slack if you're not playing well."
She "put herself out there," overcoming her shyness and joined Ladies Night.
"I joined not knowing anyone. That was kind of a big deal for me, just being able to put myself out there like that. I'm kind of shy," she said. "The women were all very welcoming. Getting to know them better has been really enjoyable for me. It's a social thing. It's nice to just play nine holes and then go have a drink with the ladies or a fun round of golf with my husband. I love everything about it."
She estimates she played about 20 rounds last season and is hoping to play more in 2022. She would like to take more lessons and has set modest goals for herself, like playing a round with the same ball and keeping score on every hole. She said she understands the commitment it takes to improve while recognizing the challenge of finding time to work on her game.
"I'm pretty realistic about my skills and my abilities and the amount of time I have to put into golf right now," she said. "I know the amount of time it takes for curling for me to be really good at that. It's taken years and years and hours and hours and I just don't have that right now for golf. For me, it's more about going out and enjoying it. I'm hooked and I could see this as something in the future I would want to invest more time and get better."
"I love it."